Five Easy Ways to Build Your Business Email List
and Connect with More Customers
Do you use email marketing as a low-cost way to reach new customers and stay in touch with your current clients? If not, these statistics may change your mind:
"The number of global email users amounted to 3.9 billion and is expected to grow to 4.48 billion users in 2024," according to Statista.1 That's a lot of potential customers you could be reaching through email marketing.


As Statista further points out, "281 billion emails were sent and received each day in 2018, and that figure is expected to increase to over 347 billion daily emails in 2022."2 So, email marketing is anticipated to grow.
These statistics are convincing, but what is email marketing? Simply put, when you send customers emails to promote the latest Day & Night® product or your "Summer Clean and Check Special," you're using email marketing to connect with them.
According to Maryam Mohsin in her article, "10 Email Marketing Stats You Should Know in 2020," "Think of [email marketing] as one of the most cost-effective and conversion-rich forms of digital marketing today."3
Ready to enhance your email marketing efforts? Here are five simple steps to build your email list quickly:
Add an Opt-In Form to Your Website
Utilize Business Emails
Leverage Social Media
Use Sign-Up Sheets, Invoices, Estimates and Receipts
Consider Using an Email Service.
---
Add an Opt-In Form to Your Website
When you send marketing emails to customers, you must ask for their permission to do so. That's where an opt-in form or email registration request comes in. Customers are "opting" to provide their email addresses for marketing purposes.
Place an opt-in form or email registration box on each page of your website so you don't miss a new customer. Think of it this way: if the customer is on your website researching Day & Night products and services, they must be in the market for a new heating and cooling system or service. And, they may be willing to subscribe to your emails to find out more about your business or get a sweet deal!
Opt-imize Your Website with an Opt-In Form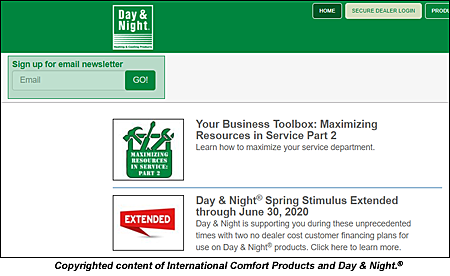 ---
Utilize Business Emails
People who are not yet on your email list could see your marketing emails. Customers may forward your email to friends or family members who are in the market for a new home comfort system or in need of a good service technician. Build on those referral connections!
Add a "Join My Mailing List" button to your business emails to make it easy for them to join your email list. Add the button as part of your email signature and link it directly to the opt-in form on your website. That way, if current customers share your emails, you have a way of capturing those new customer contacts.
---
Leverage Social Media
Add a "Call to Action" (CTA) or "Sign-Up" button to your business Facebook® page and link it to the email opt-in form on your website so visitors can easily sign-up for your mailing list. Click here for more details on adding a CTA button to your business Facebook page.4
---
Use Sign-Up Sheets, Invoices, Estimates and Receipts
Develop a sign-up sheet for use at trade shows, community events and your business (i.e., in the show room, on sales calls, etc.). Provide potential customers with an incentive (i.e., free AC inspection, cleaning or filter change) for providing their contact information, and let them know they will be receiving email updates from you on special offers and the latest HVAC products and tips.
Also include a line for each customer's name, address, phone number AND email address on your company invoices, estimates and receipts. Ask if you can add them to your email list to follow-up regarding routine system maintenance as well as providing them with future discounts.
Sign-Up Sheets, Invoices, Estimates and Receipts
are a Great Way to Add to Your Email List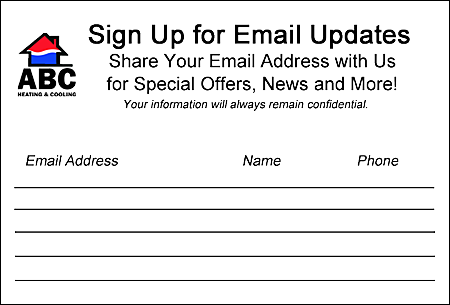 ---
Consider Using an Email Service
There are several email marketing services available that can assist you in building your email list quickly. Email services typically charge a monthly fee based on the size of your email list or the frequency of emails sent. According to Brad Smith in his article, "10 Best Email Marketing Services for Small Businesses," here are the top five email service companies to consider:5
---
Email marketing is a simple, low-cost way to gain additional customers and stay in touch with current clients. Hopefully, we've provided a few new ways you can enhance your email marketing strategy. Stay tuned to GoDayandNight.com for Part 2 of this email series, where we'll provide insight on the types of emails you can use to stay connected to customers.
---
1 https://www.statista.com/statistics/255080/number-of-e-mail-users-worldwide/
2 https://www.statista.com/statistics/456500/daily-number-of-e-mails-worldwide/
3 https://www.oberlo.com/blog/email-marketing-statistics
4 https://www.facebook.com/business/learn/lessons/add-a-call-to-action-button-on-facebook
5 https://hostingfacts.com/best-email-marketing-services/
All trademarks are the property of their respective owners.