How the Day & Night® Product Line
Can Help You Prepare for a Successful 2020
Wouldn't it be great if we had a crystal ball that could tell us the future of the HVAC industry? What are the continuing trends for the next year? What will be new in the HVAC marketplace for 2020? How can the Day & Night® product line help you prepare for a successful year ahead?
There have been several changes over the last few years that have affected the HVAC industry — changes in industry standards, technology, equipment, and customer preferences to name a few.
Let's take a closer look at these changes and how you can start planning for a successful 2020.
---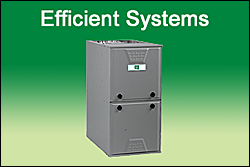 New HVAC Regulations: Conserving Energy with More Efficient HVAC Products
One of the major changes in the regulatory climate is the U.S. Department of Energy's fan energy rating (FER) for residential furnaces. Aimed at conserving energy, this new efficiency standard requires a shift from PSC (permanent split capacitor) motors to more efficient EC (electrically commutated) motors for furnaces manufactured after July 3, 2019.
Day & Night completely updated its residential furnace product line in response to the new FER requirements, including the introduction of its high-efficiency G97CMN Ion™ 98 and G96CTN Ion™ 96 gas furnaces. Click here for additional details on the Day & Night® G97CM Ion™ 98, and here for more information on the G96CTN Ion™ 96.
Commercial rooftop (RTU) packaged units also have new standards that will require the innovation of more efficient HVAC technology. As of January 1, 2018, the U.S. Department of Energy increased RTU minimum efficiency by approximately 10 percent. There will be another increase in the efficiency of commercial rooftop packaged units of approximately 25-30 percent as of January 1, 2023.
In response to these new efficiency standards, Day & Night engineers developed the new RGV/RAV and RGW/RAW Series Packaged Rooftop Units with X-Vane™ Technology. These units utilize the industry's first X-Vane or Vane Axial fan design with built-in, ramp-up speed technology to use less energy than traditional belt-driven systems. Click here for more information on the RGV/RAV and RGW/RAW Series Packaged Rooftop Units with X-Vane Technology.
In 2020, you can count on Day & Night to continue developing and manufacturing energy-efficient HVAC products to meet industry standards and customer needs.
---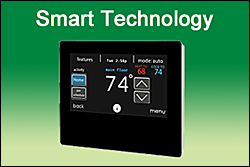 Smarter Technology = Smarter Equipment, Systems and Customers
It seems everyone has a smart phone, tablet and/or laptop these days. And, they are using those smart devices to do just about everything — from managing their home comfort systems remotely to receiving email reminders about routine HVAC maintenance and filter replacement.
In 2020, successful HVAC contractors are embracing smart technology, using it to make installations and service more streamlined and profitable for the business while making the experience more personal and convenient for the customer.
Customers expect smart solutions in 2020. They want highly efficient thermostats with mobile access and applications that can help them easily manage comfort settings, energy use and more.
The Day & Night® Ion™ System Control provides customers with mobile access to select split-system heat pumps, furnaces and air conditioners from virtually anywhere.1 Clients can easily adjust indoor temperature and humidity settings or program personalized comfort schedules using the control's integrated Wi-Fi® technology. Click here for more information on how you can help customers manage energy costs (and more!) with an Ion System Control.
---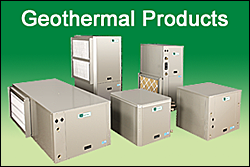 Geothermal Systems are on the Rise
According to MarketWatch, "the geothermal heat pump market is projected to exceed USD 2 billion across the U.S. by 2024. Growing demand for noiseless, environment friendly and highly efficient heating solutions from residential and commercial sectors to reduce electricity consumption will propel the industry growth."2
Geothermal systems can be more expensive to install, but they provide customers with highly efficient, consistent comfort and typically a longer equipment life expectancy. In addition, geothermal systems may be eligible for federal and/or state tax credits and potential utility rebates, where available.
The Day & Night® geothermal line offers big benefits in a variety of package, split and water-to-water units. To see the complete line of Day & Night geothermal products, click here. Click here to see the energy saving tax credits available for geothermal systems in your state.
---
Increased Demand for Ductless Systems
According to MarketsandMarkets, "the global ductless heating and cooling systems market is projected to reach USD 78.62 billion by 2021, at a [compound annual growth rate] of 8.18% from 2016 to 2021."3
Day & Night ductless products are available in ceiling-, wall- or floor-mounted models and can be used as a simple zoned HVAC solution in a room addition or as a whole-home HVAC solution. Ductless systems offer customers several benefits, including potential cost savings, reduced energy loss, quiet operation and installation flexibility, since they do not require ductwork. Check out the extensive line of Day & Night® ductless products and the advantages they provide customers here.
---
Hopefully this review of HVAC industry changes and continuing trends will help you plan for a successful 2020. The Day & Night product line can help prepare you for future progress and profitability!
---
1 Control must be connected to Wi-Fi®. App requires iOS® or Android® mobile device.
2 https://www.marketwatch.com/press-release/2019-us-geothermal-heat-pump-market-expected-to-grow-strongly-by-2024-2019-05-01
3 https://www.marketsandmarkets.com/PressReleases/ductless-heating-cooling-systems.asp