Check Out the WORLD of FAST® Parts Compressors:
Find the Compressors You Need at Prices You'll LOVE.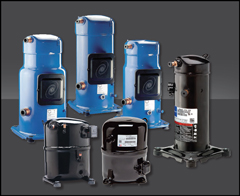 Whatever equipment you're working on, your local Day & Night distributor has access to the FAST Parts line of competitive replacement compressors for MILLIONS of R-410A and R-22 installations, including:
► Copeland Scroll® Compressors in single and tandem models.
► LG® Scrolls with solid copper stubs and discharge thermal cut-out.
► Danfoss® Commercial Scrolls as drop-in replacements for Trane® Equipment.
► Bristol™ drop-in replacement for Copeland recips and Trane® Climatuff® recips.
► R-22 Recips by Copeland, Tecumseh® and Bristol.
► Components and Accessories: Driers, TXVs, solenoid valves, accumulators and more.
---
How to Use the FAST Cross Reference to Find a Compressor
Just as important...we also provide tools to help you choose the right compressor for every job.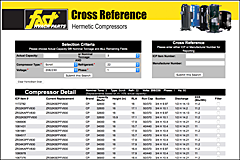 ► Click on the Product Selection/Cross Reference button at the top of a page on the FASThvacrParts.com site or click here to go directly to the tool.
► Click on "Hermetic Compressors." Or, you can click on the compressor photo on the search page. You can also click here to open the compressor cross reference.
► Choose how you want to search. You can find compressors based on either the product's specifications or the manufacturer's model number.
► Fill out a simple form to let the system know the specifications or model number of the compressor you need.
► Click the "Submit Search" button. The system will give you a list of compressors available for your project.
---
Check Out Our FAST Compressor Guide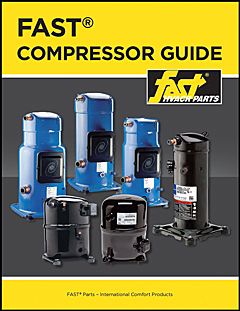 Our Compressor Guide includes specifications and competitive cross reference information on hundreds of compressors plus listings of accessories and aftermarket cycle components.
Click here to view the Compressor Guide.
FAST Parts is a supplier of quality parts, supplies and accessories to distributors who sell and service Day & Night® heating and cooling equipment. The FAST Parts aftermarket product line includes motors, motor accessories, compressors, filter driers, capacitors, electrical controls, thermostats, indoor air quality accessories, smoke alarms, carbon monoxide detectors, coil cleaners and original equipment manufacturer replacement parts for Day & Night products.
For more information about FAST Parts, visit www.fasthvacrparts.com.
To find your local FAST Parts Distributor, click here.
---
Copeland Scroll is a trademark of Copeland Corporation.
LG is a registered trademarks of LG Electronics, Inc.
Danfoss is a registered trademarks of Danfoss A/S Corporation.
Tecumseh is a registered trademarks of Tecumseh Products Company.
Trane is a registered trademarks of Trane International Inc.
Climatuff is a registered trademarks of American Standard Inc.